Tweet
PEDAL PALE ALE KEG RIDE: April 27, 2013
Quick!  Register Today for the running of the 9th Annual Keg Ride. East End Brewing Company is back at it again to raise money for In Stride Therapeutic Riding and BikePGH. The ride has been known to sell out and there will be no day-of registration to the event.
THE RIDE: To spread the word about what it means to operate an environmentally sustainable brewery, since our very first year, we've been delivering the the very first PEDAL PALE ALE kegs of the season to a local tap-spot in a very unique way….BY BICYCLE.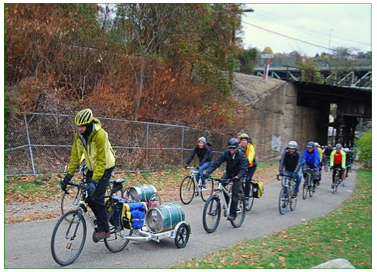 On Saturday Morning, April 27th, 2013, East End Brewing will set off with a few kegs and hundreds of our GOOD FRIENDS to a mystery destination to debut this years Pedal Pale Ale. The trip will be slow, meandering, and maybe a little surprising – especially the secret destination.
CAN I BUY YOU A BEER? For everyone that rides, your first beer is on the East End Brewing. The more riders, the more beer we have to pull… but they will take care of that part.
NEW/NOT SO NEW THIS YEAR:
Start is at East End Brewing's New, fully operational brewing home, 147 Julius St. in Larimer.
Ridership is capped at 650 and we're eliminating day-of registration and waiver-signing as much as possible to keep the lines short!
KegRide tshirt, designed and printed by our long-time pals at CommonwealthPress, are available at the ride. 100% of the proceeds go to our charities…
MORE NEW STUFF:
Zombo goes MOBILE! Yes, we're bringing him and the tunes with us this year, all pulled by bicycle of course!!!
The Pgh Taco Truck will be joining us at the Brewery before we leave, so COME HUNGRY!
THE PARTICULARS:
Date: Saturday, April 27th, 2013
Time: 9:30-10:30am sign-in, 11am departure, arrival at Desination likely between 12 and 1pm
Starting Point: East End Brewing Co. 147 Julius St. Pgh, Pa 15206Destination: You've gotta ride to find out!
Distance: 6-10 miles Pace: Gentle, slow. Remember that part about people pulling a keg?
Registration: $25
---
Tell Pittsburgh's Mayoral Candidates that you want safe streets for biking and walking! There's a good chance that Pittsburgh's next Mayor will be decided in May's Democratic Primary. A supportive mayor is the difference between expanding on bike-friendly initiatives or a halt. Show the candidates that biking and walking issues are popular, and can even swing an election! Sign our petition TODAY!